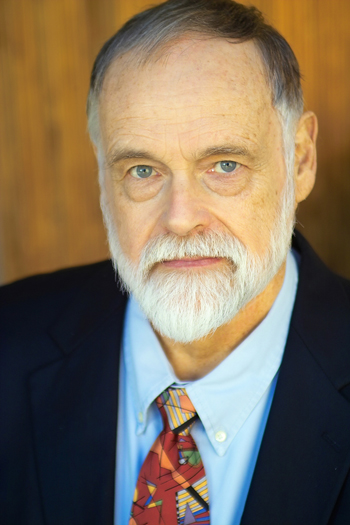 KNIGHT-THOMPSON SPEECHWORK began with the teaching of Dudley Knight, and eventually, his student Philip Thompson. The name first described a series of workshops, and the body of knowledge and approach to speech training for actors described in Dudley's book, Speaking with Skill. We lost Dudley in July of 2013, and much thought has gone into the question of how to carry on his legacy. In 2012 the first class of certified teachers of Knight-Thompson Speechwork (KTS) completed their training, and out of that group, we selected two teachers to begin assisting in the teaching of workshops. Andrea Caban and Erik Singer now serve as Associate Directors. Their role is to assist in long-term planning, as well as the day to day decision making. Co-Founder Philip Thompson continues as Director of KTS.
---
 FOUNDERS
---
Dudley Knight
Professor Emeritus of Drama at the University of California, Irvine. Founding member of the Long Wharf Theatre in New Haven, Connecticut; extensive stage career includes major roles with American Conservatory Theatre and Magic Theatre (San Francisco), Globe Theatre and La Jolla Playhouse (San Diego), Mark Taper Forum and Los Angeles Theatre Center, Colorado Shakespeare Festival (six seasons), Pennsylvania Shakespeare Festival, Connecticut Repertory Theatre, Utah Shakespearean Festival and Shakespeare Theatre of New Jersey, along with hundreds of roles in film, television, radio, and voice-over. "Best Leading Actor" (King Lear) Orange County Register, 1989. "Best Director" (Mastergate) Los Angeles Times, 1991. OC Weekly Award (SubUrbia) 1999.
Certified as master teacher of Fitzmaurice Voicework. A forty-year career as voice, speech and dialect teacher and voice director for professional theatre; conducts workshops and lectures on voice and speech for actors and voice teachers worldwide; published articles in journals and in the books The Vocal Vision and Standard Speech. Editor of A World of Voice, 2011. Subject of a book chapter in Voice & Speech in the New Millennium, 2011. Speech textbook Speaking with Skill published by Bloomsbury/Methuen Drama, 2012. 1993-1997: artistic staff of South Coast Repertory as resident voice and dialect consultant; 1996-1999: board of directors of VASTA (Voice and Speech Trainers Association); member of Actors' Equity, SAG, AFTRA, ATHE, VASTA, ADS, IPA.
On June 25th, 2013, walking home from rehearsal, on a beautiful cool night in Irvine, Dudley Knight was struck down by a heart attack. He died soon after without regaining consciousness. For those of you who knew him, and loved him, it must be a consolation to us that his last night on this earth was so full of joy, and the comfort of being close to loved ones, and immersed in an exciting new project.
For those of you who came to this site in the hope of learning more about him and his work, rest assured, his work will still be taught, the workshops offered, and everything that he hoped for in sharing Knight-Thompson Speechwork with the world will be carried forward.
---
PHILIP THOMPSON
Phil Thompson, co-founder of KTS, is a Southern California-based voice, text, and accent coach with more than two decades experience with theaters across the country, and has also worked professionally as an actor (largely in Shakespeare). He is the head of Voice and Text at the Utah Shakespeare Festival, where he has been resident coach since 1999. He has coached over a hundred shows at USF, and has coached 28 of the 37 plays in the Shakespearean canon.
Among Phil's professional coaching credits are five recipients of the Regional Theatre Tony Award: South Coast Repertory, La Jolla Playhouse, Denver Center Theatre Company, Utah Shakespeare Festival, and the Cincinnati Playhouse in the Park. He has coached more than 175 professional productions, and has long-term relationships with many of these theaters. After the Utah Shakespeare Festival, the theatres he has worked with most are South Coast Repertory where he has coached 31 productions, and the Cincinnati Playhouse in the Park where he has coached 18.
Phil teaches voice and speech for the MFA program in Acting in the UCIrvine Department of Drama, where he is a tenured faculty member.  He is also a graduate of that program, earning his MFA in Acting in 1989. He headed the MFA program at UCI from 2006 to 2016. He has served as President of the Voice and Speech Trainers Association (VASTA) as well as holding positions as a board member and Secretary. He also served on the Board of Directors for the University/Regional Theatre Association (U/RTA) from 2005 to 2007.  He is a master teacher of Fitzmaurice Voicework, and frequently teaches in the Fitzmaurice Certification Program.
---
Master Teachers
---

ANDREA CABAN
Andrea is an actor, writer & arts educator. Prior to heading up the Voice & Speech department at Cal State University, Long Beach, she was on the faculty at UC Irvine and Cal State Fullerton, and has been an artist-in-residence at University of Cape Town and UC Irvine.
She is the dialect expert on HowCast.com, demonstrating over 35 different accents in a series of mini-classes, and is a voice/dialect coach for actors and other professionals, most recently working in that capacity for Tony-award winning South Coast Repertory and Pacific Symphony. She proudly holds an MFA from the UCI Drama Department and is one of a handful of voice and speech educators to be designated as an Associate Teacher of both Knight/Thompson Speechwork and Fitzmaurice Voicework.
Andrea is also an internationally recognized playwright/solo artist. She received the New York Innovative Theater Award- Outstanding Solo Performance for her play You Got Questions? I Got Answers!
She continues to tour her latest solo play Questions My Mother Can't Answer throughout the US and internationally. Her performance tours always include a community-engagement component, whether that's developing solo pieces with professional actors in New York, creating a clown show with community members in Bogota, or developing poetry performances with rural South African youth.

Erik Singer
Erik is a dialect coach and a teacher of accents, speech, phonetics, voice, text and Shakespeare. He has taught in the MFA program at the Mason Gross School of the Arts at Rutgers University, and currently teaches speech in the one-year "Core" conservatory course at HB Studio in New York. He coaches accents and dialogue for film, television & theatre productions, both on location and in and around New York City.
As an actor, he has played leading roles Off-Broadway and at many of the nation's major regional theatres. Erik has also voiced numerous television and radio commercials, documentaries, animated shows, and New York Times best-selling audiobooks.
From 2010 to 2013 he was the Associate Editor for the "Pronunciation, Phonetics, Linguistics, Dialect/Accent Studies" section of the Voice and Speech Review, the peer-reviewed journal of the profession. He blogs frequently for the Knight-Thompson Speechblog and posts instructional videos about various aspects of accent work on both ErikSinger.com and DialectCoaches.com.
Erik is a Certified Associate Teacher of Fitzmaurice Voicework. He is a graduate of the Webber Douglas Academy of Dramatic Art in London and of Yale University.
---